Råmossa Lodge Meeting
A Meeting Day
Råmossa Lodge is a peaceful meeting venue in the middle of a large private the forest, 60 minutes drive from Helsinki to the east (City of Porvoo). We offer our guests privacy and space, since we attend to only one group at a time.

The views from the main Log House open to our private lake, and We recommend holding part of your meeting day out in the wilderness. Our meeting chairs are comfortable to sit on and the AV equipment is of high quality.

We tailor-made meeting packages, so let us know your special needs. As activities, you can e.g. do Deep Forest™ Yoga, hike or snowshow-walk, fish and just relax in our wood-heated sauna. More pictures and film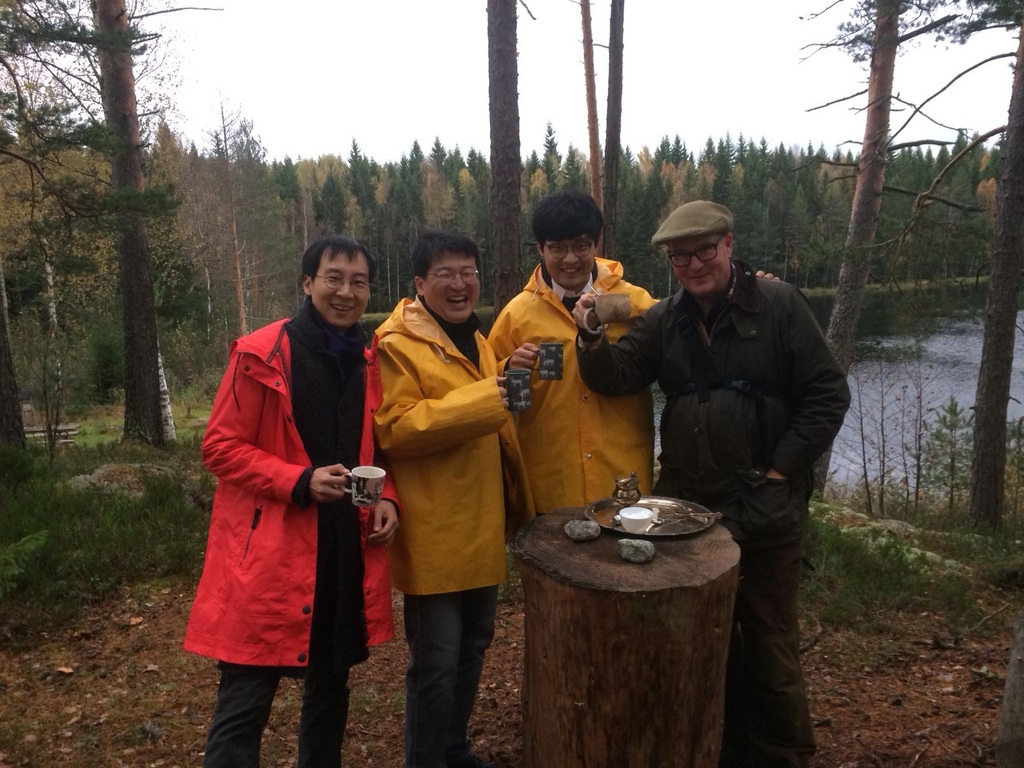 Energizing food
We want to offer food that is both tasty and refreshing. Our catering partner is restaurant Zum Beispiel based in Porvoo, and we use as many locally produced ingredients as possible. The menu is always customized according to your wishes and the season of your visit.
Råmossa's generous breakfast: yoghurts, fruits, organic eggs, organic bread selection, vegan and buttermilk spreads, reindeer cold cuts, seasonal vegetables, porridge made of Malmgård oats, and cheese. Strong coffee, tea, and fresh juice.

Good and tasty lunch à la Zum Beispiel. Main course of fish, chicken or vegetables plus salad, seasonal vegetables and organic bread.

Afternoon coffee and tea, sweet and salty snacks (e.g. berry or chocolate pie, cinnamon rolls, or sandwiches). Served outdoors or in the Villa.

Fruits and nuts are available throughout the day.
Prices and more information
Price example 990€ / a group of 10 people (+VAT 14-24%).
The Log House accommodates a meeting group of 8-12 people.

Duration of the meeting day 7-8 hours.

Price includes breakfast, lunch, afternoon coffee/tea and snacks as well as our meeting services.

AV equipment: wireless free WiFi, projector and screen, flipchart on wheels.

Råmossa Lodge has a liability insurance. The participants are responsible for acquiring their own accident insurances.


Evening at Råmossa Lodge
A great meeting day is crowned by outdoor activities in the beautiful surroundings, relaxing in sauna and dinner.
Three-course dinner 88 € / person (incl. VAT) à la Zum Beispiel, served to table in the Log House or in nature. Minimum of 8 participants, combined with the meeting package.

Activities: bathing in wood-heated sauna, hiking, snowshoe walking, fishing, mushroom/berry picking, Deep Forest™ Yoga.

For more ideas and information send us e-mail to
info [at] ramossa.fi or call tel. +358 50 568 8017 or 040 568 8012.

Warmly welcome!

Outi and Jussi J. Pekkinen